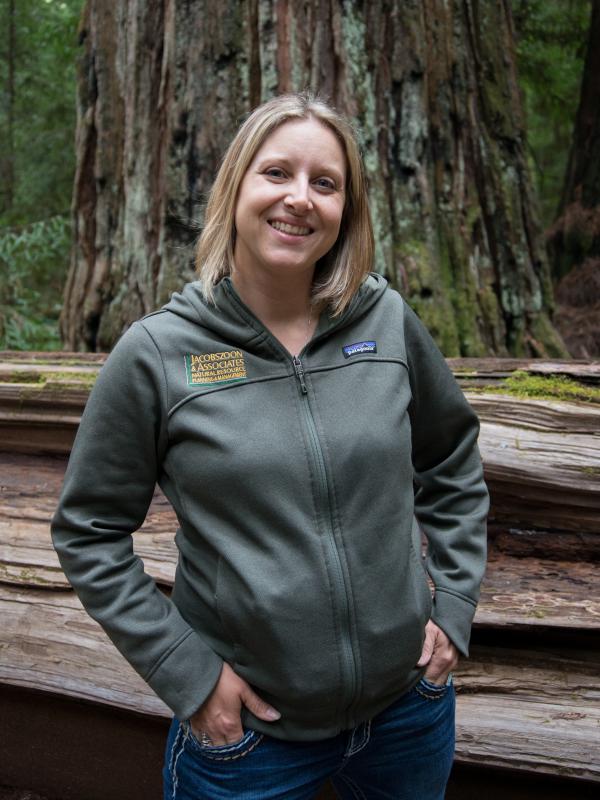 Since joining Jacobszoon and Associates in 2005, Alicia has become the principal Wildlife Biologist and an invaluable employee.  She provides wildlife assessments and botanical surveys on Jacobszoon and Associates client's private timberland as well as for outside consultants, industrial timberland owners, and conservation groups.
Alicia has become a northern California wildlife specialist focusing on terrestrial wildlife, wildlife-habitat relationships, impact assessments, and regulatory compliance.  Principal projects have included conducting and/or organizing species-specific protocol surveys and assessments for northern spotted owl, raptor species, nesting bird species, Point Arena mountain beaver, Townsend's big-ear bat, California red-legged frog, Foothill yellow-legged frog, and Western pond turtles.  Recently Alicia conducted wildlife surveys and monitoring on the Willits Bypass project for Cal-Trans. 
Alicia's experience does not stop at just wildlife biology, she takes on many of the forestry related tasks as well.  She has experience marking timber, cruising timber, cruising carbon, writing and laying out THPs/NTMPs/MTHPs, writing/planning forest restoration plans, and much more.  She also trains seasonal and full-time biologists and forestry technicians/aides.
Prior to joining Jacobszoon and Associates, Alicia worked on the Mad River Slough Project in Arcata, CA.  As a Field Crew member, she conducted surveys and established tracking of small mammals establishing a baseline on the population density.
Alicia holds a Bachelor of Science in Wildlife Management and Conservation from Humboldt State University.  She also holds an .
---
Certifications/Professional Organization 
US Fish and Wildlife Certified red-legged frog biologist
CALTRANS Approved Biologist
Redwood Regional Logging Conference, Board of Director
Cal Fire Archeological Training Certificate
CDFW CESA Plant Voucher Collecting Permit No. 2081 (a)-20-089-V
---
Publications 
---
You can contact Alicia at (707) 485-5544 ext 104 or by email at [email protected]